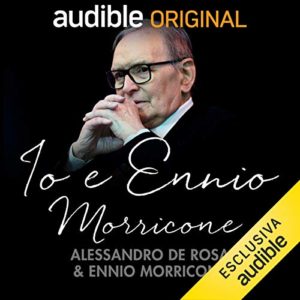 "Io e Ennio Morricone" is a three hour and ten minute podcast, available on the Amazon Audible platform, in which Ennio Morricone and Alessandro De Rosa talk about his work and his life.
Podcast Synopsis: Ennio Morricone is a legend of music and cinema. His compositions accompanied more than 500 films and entered the hearts of millions of viewers. But where does his art come from? The Maestro opens up to the microphone of the young composer Alessandro De Rosa, his biographer. He tells us his story, his doubts and his many achievements in a conversation that represents a moment of personal reflection on his illustrious career as well as on his life experience and at the same time a rare and precious generational comparison.
"Io e Ennio Morricone" is a unique opportunity to hear from the words of Morricone himself his childhood memories, his formative years at the Conservatory, his beginnings as an arranger in the world of popular song up to his absolute music and countless collaborations for cinema with greatest Italian and international directors.
Listen to the podcast by clicking here.